Agoraphobia keeps Christy France from ever leaving her house. There's no way for her to get treatment without doing the very thing that terrifies her most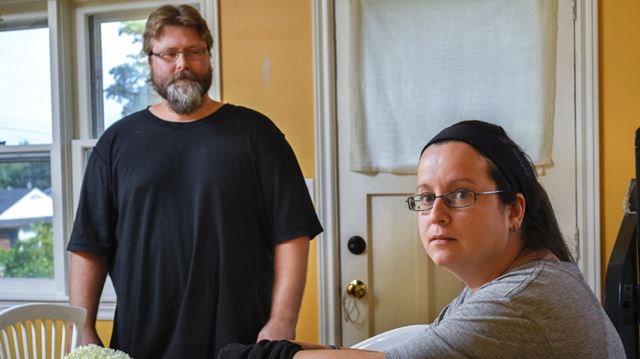 She has barely been out of their house in three years because of her agoraphobia.
Her husband has rarely been out of the house in a year because he refuses to leave her there alone.
The only way she can get treatment that is paid for by OHIP is if she goes to a doctor's office. But she can't leave the house because it is the only place she feels safe.
Agoraphobia is an anxiety disorder that causes fear of public places, particularly places where the person has had a panic attack. In Canada, it affects between 0.5 and one per cent of the population.
I never left the bedroom. I ate in there. I couldn't get help. I just gave up. I was very suicidal. I want my freedom back."
Christy France
"I'm OK with it. My life is where she is. You've got to think about what's really important in life."
Chris France
Telling someone with a severe version of the mental illness that they must go out for treatment is akin to telling a paraplegic there is help if only they get out of their wheelchair and walk up the steps into the doctor's office.
"We're both prisoners here," Chris France, 34, says matter-of-factly, as though resigned to his wife's fate.
He is sitting in the tidy dining room of their west Mountain home, morning sunlight streaming through the windows. Sunlight he will feel on his face for a few precious seconds later in the day as he and his spouse, Christy France, 33, execute their one faithful outing into the world.
On weekday afternoons they leave their bungalow, clamber into the car, drive around the block to their mailbox, grab whatever's inside and return home. The entire routine takes about two stressful minutes.
"I do it at rocket speed," says Christy. "Go, go, go!"
That is as far into the world as they venture. Chris will sometimes garden in their backyard. Christy hardly ever steps out there.
"I want to go outside to pick an onion to go with dinner and I can't today," she says softly.
Christy has invited me to her home for an interview. Neither she nor Chris recalls the last time they had a visitor apart from Chris's dad, who comes by occasionally. She has been vomiting all morning, anxious about my arrival.
In an oversized T-shirt and long shorts, Christy spends our entire interview pacing and tossing a baseball from hand to hand.
Her forearm is scarred from deliberate burns. She does this sometimes, she says, as punishment for what she puts her husband through.
Chris, however, never complains. He loves his wife unconditionally.
"I'm OK with it," he says of their small word. "My life is where she is. You've got to think about what's really important in life. Yeah, I could go out and find another wife and have kids, but this is the life I've chosen. I'm not leaving her because she needs help."
Christy is friendly, smart, insightful and painfully honest about the mental illness that traps her inside her house.
Or worse.
"In May and June of this year, I never left the bedroom. I ate in there. I couldn't get help. I just gave up. I was very suicidal. I want my freedom back."
Growing up on the east Mountain, Christy was always an "anxious" kid. She balked at going to school, although she was an excellent student.
At Hill Park Secondary School, when she was 14, Christy was sexually assaulted by another student. She didn't want her parents to know.
She stopped eating (she dumped her lunches in mailboxes) and withdrew from friends who noticed. Eventually, she was sent to therapy and was diagnosed with post-traumatic stress disorder and bulimia.
She trusted no one. Until she met Chris. Two grades ahead of her, he was kind and gentle. He was on the football team. She was a cheerleader.
He began walking her home, so she would feel safe. He made gigantic sandwiches for his lunch and persuaded her to eat half.
Soon, he was her everything.
On Christmas Eve 2010 they married in a small ceremony on the football field at Hill Park.
The bulimia persisted. Christy was starving herself. She was always exhausted, thin and sickly.
Still, she finished high school and enrolled at Mohawk College in the child and youth worker program. During a work placement at a shelter, she collapsed from hunger. Her eating disorder prevented her from completing her program.
"I felt like everything I'd worked so hard for just blew up in my face," she says.
She switched to general arts and sciences and graduated. After that, she went to McMaster University and earned her bachelor's degree in women's studies, English and sociology. While doing that, she got treatment for her bulimia.
"I'd pretty much gained control over that, but then my anxiety kicked in."
Beginning in 2007, anxiety caused her to throw up all the time at her job at Zellers. Going to movies became impossible. Ditto, shopping malls. She quit her job. Then she quit school.
"I stopped doing a lot," she says. "I just kept crossing things off the list that I could do."
The anxiety would come over her suddenly while she was out. For a long while, she mistook it for low blood sugar, and carried juice boxes around hoping that would ease the trembling and dizziness.
Then there was Easter weekend 2013.
The couple was out doing the weekly grocery shopping. Since their world had shrunk so much already, that outing to FreshCo had become their date night.
"We called it 'FreshCo Friday Night,'" Chris recalls.
On this particular evening, they were in the checkout line when it happened.
"I was just feeling confined," Christy says. "Stuck in that space. I thought I was sick. I thought I had a brain tumour or something. I felt like I wasn't in my body anymore. There was silence. Spinning. My heart was pounding."
Chris remembers everyone staring at his wife.
"She had a blank face," he says. "I didn't understand it."
Just days after that, the couple moved into the house they live in now. Christy has been inside virtually every minute since.
Also in 2013, Chris lost his job. He is a custom cabinet maker. He now works in the basement at home, but he can't get out to install his finished product because Christy can't be without him. Sometimes she can't bear to have him leave her in a room alone.
So he stays with her. Always.
They have their groceries delivered. They go nowhere, apart from the few minutes to the mailbox. They have drifted away from friends and family. The last time Chris was really out was a year ago, for his mother's funeral.
"I know what a burden I am," says Christy. "We didn't see a life like this. I don't want this life and neither does he."
The couple never planned on children, because "I always was concerned about all my craziness," Christy says.
Christy has been diagnosed with agoraphobia, panic disorder and generalized anxiety disorder as well as bulimia and PTSD.
For awhile, a doctor from the McMaster family practice unit came regularly to the house. He prescribed medication for her. Once, he even managed to get her outside, onto the sidewalk.
"He danced with me to try to keep me calm," she says fondly, offering a rare smile. But the effort didn't work and eventually the doctor, who was not trained to deal with agoraphobia, stopped the visits after they agreed she needed an expert's help.
Andrea Liss, a psychotherapist who specializes in trauma and anxiety therapy, began working with Christy in August 2013. She did phone sessions at first, eventually coaxing Christy outside. They slowly and gently ventured out to a park. A gas station. And her office. The treatment, known as "exposure therapy," involves confronting the patient's fears.
But after nearly a year of going to sessions, there was a setback. A panic attack in Liss's office made it impossible for Christy to go there again. Now Christy and Liss talk once a week by phone.
Liss's fee is not covered by OHIP because she is in private practice. Though she has cut her fee in half to $65 for Christy, the single session each week is a drain on their scant household budget.
Chris hasn't worked since April. Christy collects Ontario Works and is applying for ODSP.
She needs more therapy. Clearly. She needs therapists or doctors who will come to her house. And that help must be covered by OHIP.
"Cognitive behaviour therapy is the gold standard in anxiety disorder treatment," Liss wrote to NDP MPP Monique Taylor, "and though widely available through public and private clinics, treatment is available only to those who are able to attend clinics in person."
"This highlights the shortfalls with treatment options," Christy says. "How is that 'universal health care' if it's not accessible?"
When I put that question to the Ministry of Health, the answer was brief and unhelpful to Christy.
"If a physician sees a patient in the home or any other setting, the physician services are insured," stated the email reply. "Services provided by non-physician mental health professionals are not insured."
In three years, Christy has not found a doctor in Hamilton qualified to treat her agoraphobia and make house calls.
The ministry directed calls to the Mental Health Helpline for information on services and treatment that can be provided in home. Christy has called there many times and come up empty.
"She deserves to have the same health care as everybody else," says Taylor when asked about Christy, who is her constituent. "It's discrimination. We have a system that has done nothing to support her."
Taylor promises to help Christy find the care she needs and have it covered by OHIP.
The Frances are worried about losing their house — the one safe place in the world for Christy.
"I spend most of the day in my room reading about agoraphobia or cleaning, or pacing," she says. She likes to cook. Sometimes she watches TV at night, but she doesn't always feel comfortable in the living room.
source;http://www.thespec.com/